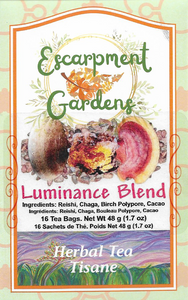 Ingredients:
Reishi (Ganoderma lingzhi), Ontario Wild Chaga (Inonotus obliquus), Birch Polypore (Fomitopsis betulina), Cacao* (Theobroma cacao)
* Contains caffeine
16 Tea Bags. Net Wt. 48 g (1.7 oz.)
(Unbleached, biodegradable, non-gmo and plastic free tea bags.)

Traditionally Used For:
Immune, nervous system, brain and cognitive support. Can be used for stress relief and a feeling of centeredness and alertness.

Enrich your mind and body with immunity-boosting, energy-reviving and calming benefits. Enjoy a cup of Luminance and embrace the good life!
Description:
The earthy, full flavours of reishi, chaga and birch polypore mushrooms with a balanced sharpness of cacao, gives this herbal tea an enjoyable taste profile.
Brewing Instructions:
Place 1 tea bag in a tea cup with boiling water. Let steep for 10-15 minutes before drinking.
Disclaimer:
This site is not intended to provide diagnosis, treatment or medical advice.  Information on this site should not be considered as a substitute for advice from a healthcare professional.