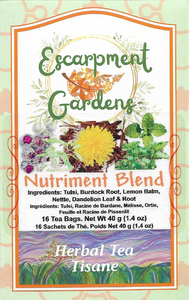 Ingredients:
Tulsi (Ocimum tenuiflorum), Burdock Root (Arctium lappa), Lemon Balm (Melissa officinalis), Stinging Nettle (Urtica dioica), Dandelion Leaf & Root
16 Tea Bags. Net Wt. 40 g (1.4 oz.)
(Unbleached, biodegradable, non-gmo and plastic free tea bags.)

Traditionally Used For:
Digestive, liver and kidney support, as a diuretic and for cleansing.

Sip your way to better health with Nutriment Blend Herbal Tea. Formulated with lemon balm, stinging nettle, burdock root, dandelion leaf and root and tulsi, this herbal tea helps cleanse your liver and kidneys while aiding digestion. Enjoy the benefits of a digestive aid in a delicious cup of tea.
Description:
Nutriment Blend Herbal Tea has a bitter, earthy flavour that is pleasant and soothing to drink.
Brewing Instructions:
Place 1 tea bag in a tea cup with boiling water. Let steep for 10-15 minutes before drinking.
Disclaimer:
This site is not intended to provide diagnosis, treatment or medical advice.  Information on this site should not be considered as a substitute for advice from a healthcare professional.